Car Ignition Repair Fort Worth
There are many things that can go wrong with older and newer vehicles. This will make it necessary to get Car Ignition Repair. Some problems require an experienced mechanic to handle. Others may need towing your vehicle to their shop. For example, if you need Auto Ignition Repair, we will be on the way in a relatively short time. Auto Key Fort Worth, Texas, is a service you can rely on. We come wherever you may be in our service area.
Do you have an ignition jammed? Are you frustrated because you can't turn it as it is stuck in your automobile? When your key stuck in the ignition, it is recommended that you don't pull it forcefully. This might cause more damage to the car. Instead, call Auto Key Fort Worth, Texas. We have the right experience, parts, tools and the knowhow. In addition, if you have a problem with Ignition Car Key later, we can redo it if it is still under the warranty period.
Car Ignition Repair done when keys break
We help you save money when we arrive at your home to extract and repair Broken Car Keys In The Ignition. You don't have to tow your car or truck to the area mechanic. Save that money for a time that you might need it for something else. If your Ignition Jammed, we can do Car Ignition Repair or replace it professionally. Working on this problem can easily save you $100 tow truck fees.
Auto Key Fort Worth, Texas is an expert service. We provide customers with the right services whenever they need them. We perform services for such issues as Key Stuck In The Ignition or Key Ignition Switch Problems. Our highly skilled technicians deliver our services for Car Ignition Repair. We make it our duty and our goal to offer you quick and reliable solutions. If you need help, don't hesitate to call us even in the small hours of the night.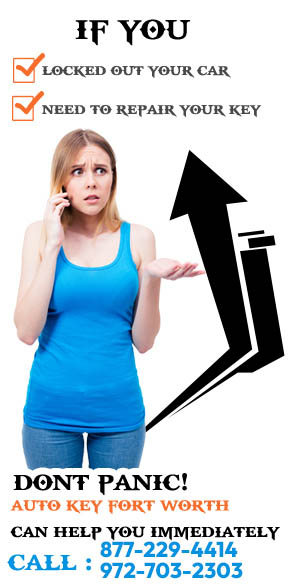 Ignition key rekeyed or changed fast
Our locksmiths help your vehicle run better. That is because the car starts quickly when we Re Key Ignition Lock Cylinder. Have you have been attempting to start your vehicle in the morning without success? We can help you get to work on time. We have this part in stock for many types of vehicles. We can replace it quickly when it is needed. Therefore, we can Change Ignition Lock Cylinder for your Japanese, American or European vehicle in only a few minutes. We will also provide this service at work, home or on the road no matter where you are or what time it is or what kind of car you drive, we have what you need. Call Auto Key Fort Worth, Texas today for Car Ignition Repair even if it is late at night because we are a 24 hour service. In addition, we run on weekends and holidays. If you happen to call us at odd hours, we will not charge you extra. We offer the same low fees in spite of the time.
Our locksmiths have attained the right amount of education inside the classroom and on the job. They have also acquired all the required state professional certifications. Do you need a replacement ignition key? You can rest easy and feel comfortable in the knowledge that professionals are at work for you. We can solve any ignition cylinder lock problem within a brief moment. You will appreciate our Ignition Car Key service. This is because you might need to drive to work in a hurry.
Auto Key Fort Worth, Texas will replace ignition key quickly. We only use parts that are bought from top American manufacturers. We believe in offering quality products to our customers. We also take our time to shop for them. We only buy from companies that are known as leaders in the automotive accessibility and security market. Most of our customers give us repeat business for Ignition Car Key. They come back because they are fully satisfied. We make sure that their needs are met on time and under budget all the time. We also save you money each and every time that we serve you.